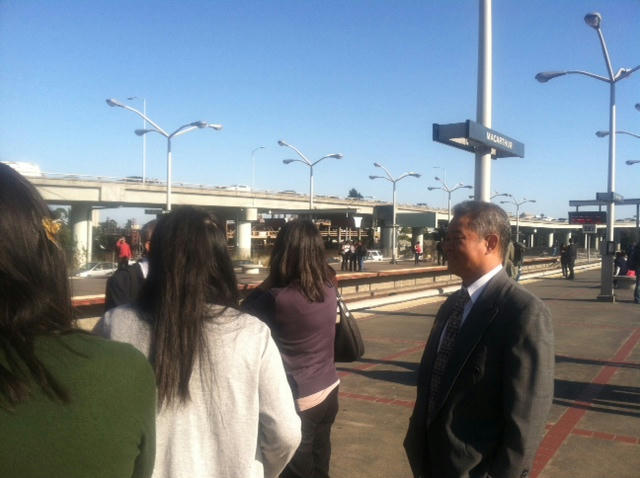 The Cornell party waiting for the second train to San Francisco.
Tonight was truly a night of celebration when all the ILC associates, Cornell alumni, and the Cornell cohort joined in an amazing dinner at One Market Restaurant. Despite our leaving the house by 4:50 PM, my mother and I were lost due to the horrible directions given by Google maps. We were trying so desperately to find the El Cerrito Plaza BART Station. After forty minutes of speaking with my father over the phone, he gave GPS-like directions and we were able to reach the station. Unfortunately, my mother and I were the last ones to arrive but we were still warmly welcomed by the other party members. Once Don told everyone the importance of not losing our BART tickets and Clipper cards, the whole group hopped on the train to San Francisco.
After about twenty minutes, we reached our destination: One Market. When we entered the restaurant, I was surprised by how busy it was and the amount of people within the establishment. Even more so, the Cornell party was given a private lounge where our dinner was held. The vastness and elegance of the room made me feel as though I was attending a Presidential event. While waiting to be seated, Rochelle, Tamilyn, Jenna, Michelle, and I met Carolyn Day Flowers, a Cornell alum and current faculty member. She described to us what her major was (Economics) and her experiences during her days at the university. Hearing her perspective of Cornell made me even more anxious to know what experiences I will have after my adventure this summer. In spite of the tardiness of one guest member, Don assembled the Cornell alums, Cornell-bound freshman, and the Cornell cohort for a group photograph. As soon as the final picture was taken, the tables were ready for us.
Subsequently, Ms. Madeline Kronenberg began the dinner agenda by having the Cornell alums and Cornell cohort introduce themselves. Once the parents and present ILC sponsors were acknowledged and thanked for their undying support, it was time for the student speakers-Rochelle and I- to present. I completely agreed with Rochelle's comment of how the ILC will increase her self confidence, as I feel that is a personal aspect I would like to improve on this summer. Even though I was nervous, I was able to convey what I hope to learn at Cornell, both academically and socially. Eric Wang's speech made me even more excited about Cornell as he described how he thought that the school was just the right fit. Finally, Mr. Charles Ramsey's speech regarding the importance of helping one's community and recognizing the potential that the ILC sees in all its members made me reflect on how I will need to do my part once I return from New York. Nonetheless, I am proud to be from the West Contra Costa School District and am greatly thankful to have been acknowleged and given this once in a liftetime opportunity.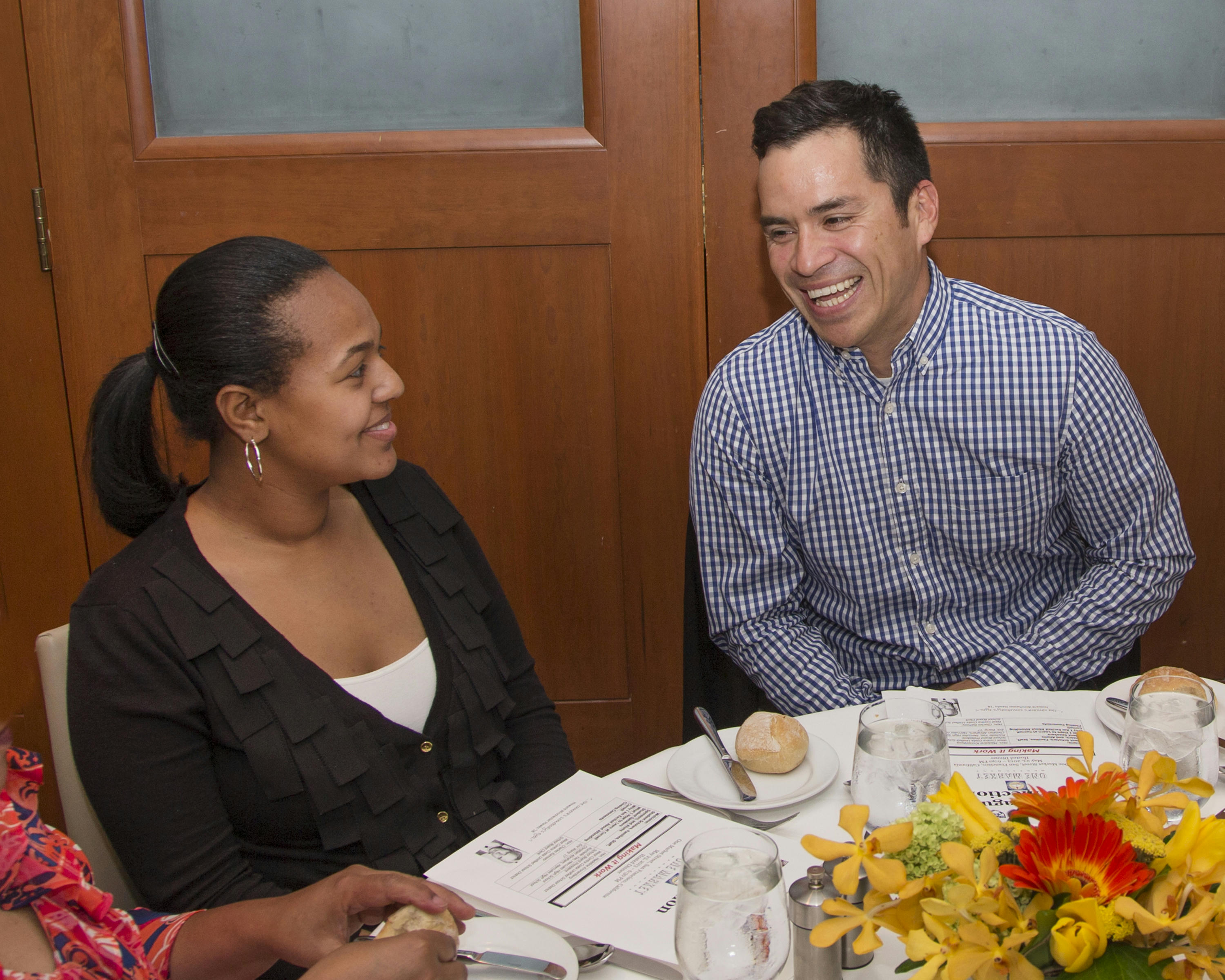 Jesus Verduzco sharing his experiences
Finally, the moment we all were waiting for: the scrumptious dinner. Almost everyone at my table, including my mother, Rochelle, her father Ronald Yee, ordered the Short Rib dish. Its tender, tangy, and tasty meat and the well complemented mashed potato spread caused my taste buds to experience a new flavor. Desert was just as wonderful. The chocolate brownie topped with whipped cream with a raspberry
drizzle sweetened my sweet tooth. While I was enjoying my delectable meal, I was able to speak with Jesus Verduzco, another Cornell alum, and Calvin Kuang, an upcoming freshman at Cornell. Jesus shared with the group his experiences of attending Cornell on the East Coast and UC Berkeley on the West coast. His perspective on not being bound to his home state of Texas showed me that I do not need to settle for the expected UC system when I apply to colleges. Broadening my horizons is one the many goals I hope to achieve while being back east. Calvin described his trip to Cornell as a former member of the ILC and shared his memories of the Freedom and Justice program. He was really helpful in letting me know what to expect from the course and how I can maximize my time so I will not be as stressed out as the other students.
By 9 PM, we all had to depart from San Francisco and return to the BART station. After a long and bumpy ride, we got together and gave Don back the tickets and Clipper cards. We were able to go home after doing so. I am so thankful to have been able to meet with veteran Cornellians and will do my best as an ambassador of my community.